Tiffany Stained Glass Catalog
We make different types of stained glass
Door stained glass window, kitchen stained glass window, ceiling stained glass window, also church stained glass windows. Below you can find photos of our stained glass windows.
All Tiffany stained-glass windows are made
We advise you to use the recommendations when choosing a stained-glass window shop:
Recommendations
You can order stained-glass windows from us
to your own taste or from our catalor. Made by american glass and best materials, using author sketches and exclusive elements which are made in our workshop Ironglass.
Stained-glass windows made by the Tiffany technique are self-contained interior items.
Qualitatively made stained-glass window will decorate any interior, any doors and ceilings.
We have an exclusive technology to combine Tiffany stained-glass windows with highly artistic forging, which we develop for our products.
We produce painted stained glass elements individually and subject them to high-temperature firing, which guarantees special resistance of the pattern to the environment and ultraviolet radiation.
And the most important thing - ordering stained glass from us, you order a wonderful decoration for your interior.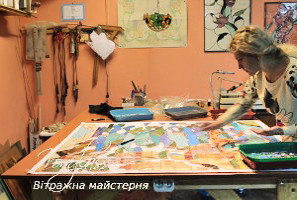 If you choose our stained glass you get:
High-quality product;
Good price;
High-quality components;
Custom design and sketch;
Qualified installation;
Guarantee on all products;
Discounts on the following orders;
Timely terms of stained glass production;
Installation of stained-glass windows in forged products;
Development of forged elements for stained glass;
The pleasure of contemplating our product.