How to choose a Tiffany stained glass window
Recommendation on the choice of stained-glass windows when ordering and buying
Choosing a stained-glass window comes from where it will be standing. Look at the product in the long term. This means that do not try to order stained-glass windows made of cheap materials and components. After all, in time, poor quality material will make itself felt.
Bad solder at the joints will begin to oxidize, change color, covered with white patches. Poor quality stained glass will look more like plastic than glass. And they can often use illiquid glass clippings.
You can see good stitches on the left and poor stitches on the right.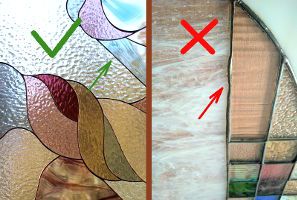 Stained-glass window should not bend under moderate external influence. The details must be well matched to each other. The connection lines must be flat, without hillocks and dents. Glass must be clean and free of flaws.
Savings on artistic development will be reflected in the fact that you get not the original drawing but a copy of someone else's work, without the knowledge and permission of the authors - artists and designers. Unfortunately, this practice is often used by unscrupulous masters and stained glass workshops.

If you consider and exclude all these points - you get the perfect stained-glass window that you want. After all, in fact, by talking about the stained-glass window design with our artist, you participate in the development. And you will have, albeit partially, but your own vision of the drawing and ideas.
We will make for you a truly original stained glass window, whether it is a stained glass window or a door, as well as stained glass windows.