Restoration and repair of Tiffany stained glass
We repair stained-glass windows and Tiffany lamps
We make repair and restoration of stained-glass windows in Kyiv, Lviv, and all over Ukraine.
Stained-glass windows, like any other glass object, are subject to accidental and external influences. That is, there are cases when Tiffany stained-glass windows are unintentionally broken, broken and deformed. For example:
Before the repair: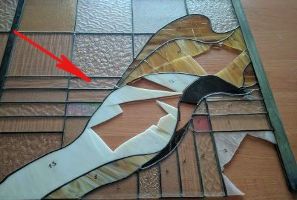 After the repair: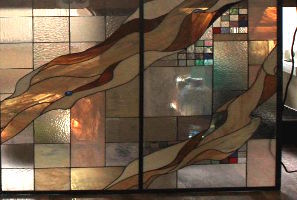 Sometimes a stained-glass window was not made properly by someone who wasn't using the right technology. These stained-glass windows are then easily deformed and broken. The seams of low-quality stained-glass windows are oxidized as a result white salt stains appear on the seams. Also, poor quality stained-glass windows have stitches like in the photo below:
Poor quality of soldering seams: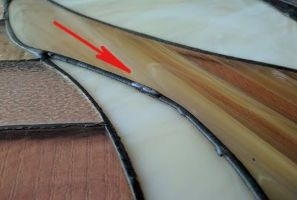 Then there is the question: what to do with these stained-glass windows?
You can order a new stained-glass window - this is the easiest solution, but not the best if stained-glass window is dear to you.
Tiffany stained-glass windows are almost always repairable. Unlike pseudo-stained glass and other derivatives, which are not repaired to the condition of new ones.
Restoration is carried out without breaking the pattern of the stained glass window, the glass is original and identical in color and texture. Also, if necessary, the stained-glass window structure itself is strengthened and reinforced with special stiffening ribs.
There are cases when the glass in the stained glass product under repair is no longer produced. For example, if the stained glass window is more than 50 years old, or it was made not in the factory, but on the master glass. Then the restoration process takes longer. Most of the time in such cases is spent looking for the original piece of glass from the right manufacturer. And sometimes it is necessary to make the texture of glass itself with the use of muffle furnaces. It should also be noted the complexity of restoration of stained-glass windows with classic high-temperature stained-glass window paintings. When you want to copy an original painting that is completely lost.
But these are quite rare cases.
We can repair stained-glass windows in these cases:
The stained-glass window is deformed;
Cracked individual parts;
The stitches were melted from the overheating with an incandescent light bulb;
The stitches are oxidized from old age;
Sagging stained glass ceiling;
Repair of Tiffany lamps;
We will repair everything
If you care about your stained-glass window or it has an artistic value, then the only way out is to repair and restore it in our workshop!