Education
master class on stained glass Tiffany's technique
Have you ever thought about learning stained glass technique and would like to learn tiffany's technique in the stained glass workshop? That's what you were looking for!
We offer educational courses on creating stained glass and lamps Tiffany's technique.
Stained-glass window training courses from 5-6 days.
+38-097-904-09-54 +38-066-766-05-19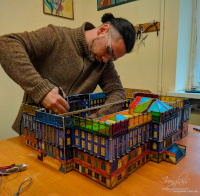 Tiffany technique master class includes
1. Sketches of works for the master class on stained glass are developed by the artist for each student individually, raised complexity. ☑

2. The full range of any stained glass is offered. ☑

3. Niceties of Tiffany's stained-glass windows sketches development, kinds of glass and materials, principles of art selection of glass. ☑

4. Stained glass cutting finenesses plus author's methods of cutting. ☑

5. Glass grinding as well as the niceties of using the equipment from the master. ☑

6. Soldering of the stained-glass window and everything related to it, as well as consumables and equipment. ☑

7. Chemical treatment and finishing of stained-glass windows to their final presentation appearance. ☑

8.Calculation of stained-glass window stiffness in different types of structures. ☑

9. The master of stained-glass window with 15 years of experience will share with you his experience in Tiffany technique. ☑

10. Working with the program Glass Eye 2000. ☑

11. And other methods of working with the author's equipment and non-standard methods of Tiffany's technique. ☑
12. Free excursion to Art Chance, the exclusive and sole supplier of stained glass and stained glass production equipment for Tiffany stained glass windows. ☑
13. Students take their works with them. ☑
14. Familiarization with the method of installing stained-glass windows in door and suspension structures.
Analysis of stained glass types by groups and manufacturers.
Variants of using stained glass tiffany technique.
This and much more you are able to discover from our master class.
We are confident that after training stained glass will become a new world of beauty and inspiration for you.
To attend our stained glass courses, there is no need for special skills. The maximum number of people in a training group can be 6-7 people. Individual lessons on teaching stained glass using the tiffany technique are also possible.
The stained glass master will control the entire process of making a stained glass window by a student, make his own changes and help correct the student's technical errors.
All the necessary materials and equipment for study are provided by a stained glass workshop.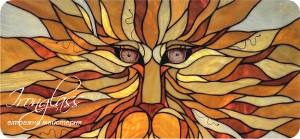 We conduct stained glass courses in Lviv. Lviv is the capital of stained glass art in Ukraine, its masters have become famous in many cities of the world.
Here the production of the Ukrainian stained-glass window was born and spread throughout Ukraine. People come to us from all over Ukraine, as well as the USA and Europe. A large percentage of stained glass masters studied in Lviv, including ours.
One way or another, all roads lead to Lviv.
For more information : contact us
or by number:
+38-097-904-09-54 +38-066-766-05-19